Nikolas Kapali, 32, is from Nepal and now lives in Vantaa. When he moved to Finland for a relationship, he did not speak any Finnish. All he knew about Finland was where it is, and little about the culture and climate.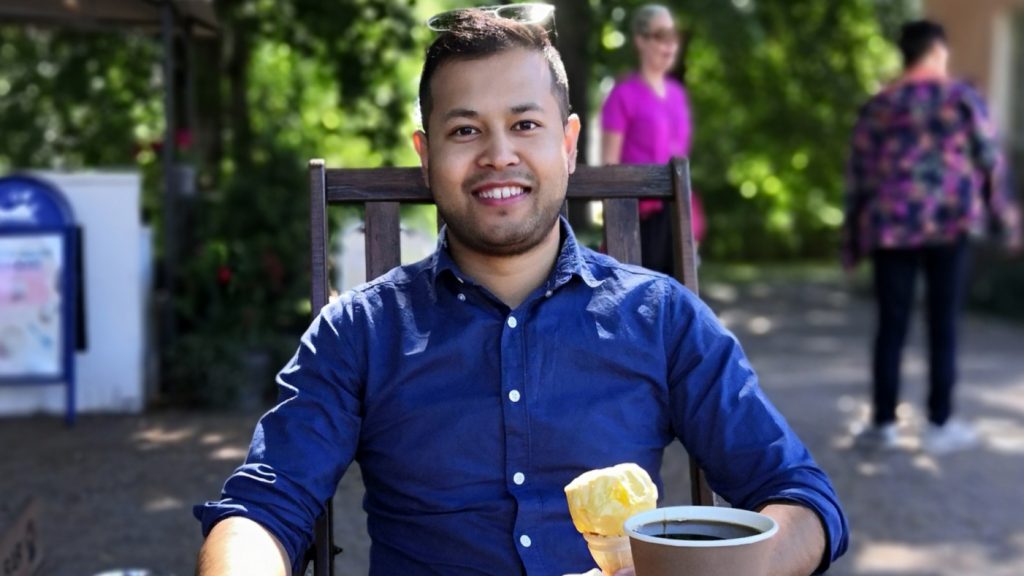 "I started studying Finnish after I moved here. At first, the language did not seem that important, since my wife's family and our circle all spoke English with me. Over time, it became important to me to know Finnish – I wanted to start speaking it to the people that are close to me".
Nikolas studied and practiced hard to learn Finnish. He enrolled in Laurea University of Applied Sciences' English-language degree programme for Business Information Systems, at its Leppävaara campus. The programme includes 15 credits of Finnish.
"I wanted to keep learning more, though, so I went to study Finnish at the Adult Education Centre in Helsinki. They have a good environment for learning, as everyone was motivated to learn Finnish. I also practiced my Finnish at home with my wife, and I will always try to first speak Finnish with everyone, even if they switch to English very quickly".
Nikolas' wife is a teacher, and she told him to start watching Finnish television. They also subscribed to Selkosanomat, a simple Finnish magazine.
"We studied Finnish for four months at home, two sessions per week. I also watched Pikku Kakkonen and Salatut elämät and read the articles in Selkosanomat".
Nikolas also felt that it was important to know Finnish at his new workplace.
"I decided that if I were to know enough Finnish, it would be easier to find a job, even if I wasn't yet fully an expert.
In my experience, you don't need to be fluent in Finnish, and instead it's more important to show that you have the motivation to learn the language and that you can make it with Finnish at work. Even if English is the primary working language in IT, your colleagues and working environment may be Finnish.
Project studies help at work
Nikolas completed his Bachelor of Business Administration degree from Laurea in 2018. He has particularly good memories of working as a group, independent studying, and the research-based way to study. His studies have been very useful in his career.
"I think that all the project work I did during my studies have given me a good foundation. I learned to work on my own and to take responsibility for my work. I enjoyed group projects a lot, as Laurea has a large amount of international students, all of whom have a different way to think and work. I believe that, thanks to all these experiences, I have gained a wider understanding of various work and life situations".
Nikolas wants to give current students some hints for both their degree studies and for learning Finnish.
"Courses, projects and group assignments are all very important, and you should make use of them. Companies will always want to hire employees with experience, which is something students usually don't have a lot of.
I highly recommend trying to find project work, both at Laurea and through other channels. What can help with Finnish studies are additional courses, and finding a job after graduation. You should always try to use as much Finnish as possible. Libraries also provide Finnish courses and language cafés.
The degree programme in Business Information Systems includes two placement periods. Nikolas completed the first of these at Teknologialainaamo, which operates at Laurea's Tikkurila campus. Finding his second placement was much more challenging. Many positions were available, but the companies all wanted someone with more experience.
"I also applied for a placement directly with companies that were looking for employees. It is very important to find a good placement, as many can turn that into their actual place of employment, like I did. That is why I recommend taking enough time and finding a good placement. It won't always be easy, and not everyone will want to pick you, but it's important to stay positive and learn from the experience".
English as a working language, Finnish as a requirement
In seeking a placement and a permanent position, Nikolas has noticed that many workplaces require Finnish skills even if the working language is English.
"For instance, one company that I was applying for a placement in held its job interview in Finnish. It seems like my attempts at Finnish were good enough, as I got the placement. The CEO told everyone else to not speak English to me so that I would learn Finnish better".
Job advertisements are often only in Finnish as well.
"If the advertisement is only in Finnish, it weeds out a lot of applicants from the get go. Because of this, people that only speak other languages will never have the chance to show off their skills. If a company wants to hire a bilingual expert, or one that speaks more languages, job advertisements should be in Finnish and English".
Nikolas is currently taking time off from work to care for his three-year-old daughter. His job at Helsinki-based Exove Oy, where he's worked for the past two years, is waiting for him. He develops web applications, such as websites for companies.
"Our working language is English, but I try to speak Finnish whenever it's possible. Most of our customer are also Finnish-speaking. The company is multinational, so I work with people that speak Finnish and English. I can get by with Finnish, but it does take more effort than English. Sometimes I feel like I could do better with Finnish".
The people are friendly, but getting used to the silence takes time
Nikolas has lived in Finland for eight years, now. It has been easy for him to integrate into Finland.
"I have a family here, a wife and a daughter. At Laurea, I met a lot of interesting people and many of them became friends that I like to meet and have fun with. I'm happy with my job."
Nikolas is happy in Finland, and he feels like Finnish society is very friendly and peaceful.
"I've mostly had good experiences with how things are done here. What takes the most getting used to is how silence is normal. At my first Christmas dinner in Finland, everyone just ate in silence. I had to ask my wife if there was something wrong, since nobody was talking, but she said this is normal".
Nikolas has a few more hints, to help with integration.
Try and have a positive attitude and an interest Finnish culture and the people. Be friendly, it'll make it easier to make friends and build your career network.
Suurin osa Showcasen blogeista on toteutettu osana Laurean opintojaksoja. Koko koulutustarjontaamme voi tutustua nettisivuillamme. Tarjoamme kymmenien tutkintoon johtavien koulutuksien lisäksi myös paljon täydennys- ja erikoistumiskoulutuksia sekä yksittäisiä opintojaksoja avoimen AMK:n kautta!