An alumni interview with Amina Mohamed, multiprofessional in social services and founder of the company Qj-Diasporassa.
Amina Mohamed graduated as Bachelor of Social Services from Laurea's Tikkurila campus in 2012, and after a few years of work experience, Amina also completed a Master's degree in Social Services and graduated as Master of Social Services in 2019.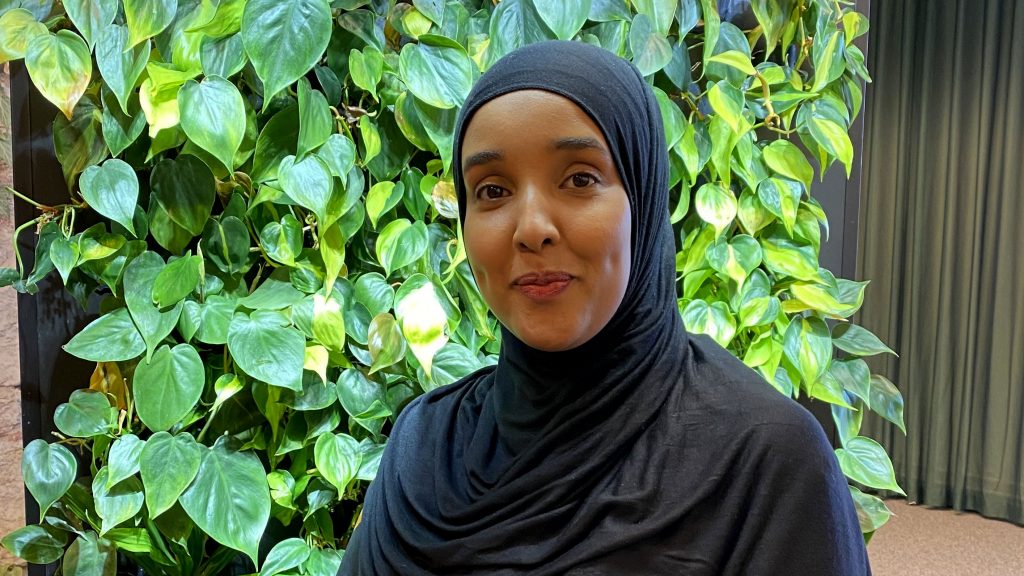 Before studying social services, Amina had completed a vocational qualification in business and administration, so the transition to university studies seemed like a big leap and in the beginning, her studies required a huge amount of work. At the beginning of her Master's degree studies, her situation was very different, as she had already become more familiar with the social sector through work. In addition, Amina had accumulated plenty of experience in writing, had learned the right style of studying and had completely different objectives than when completing her Bachelor's studies.
The best part of the studies was that students were able to participate in social situations and reflect on what they read and learned together with others.
I have always enjoyed being able to reflect on and think about things with different people, Amina says.
The most important learning from studies in terms of working life was the increase in trust and independence. Amina says that she acquired a lot of tools for work from her studies and that she has further honed her knowledge and skills in working life.
Trust from lecturers has also definitely affected my career development. I already got the opportunity to give lectures to other students in my Bachelor's studies because the lecturers trusted me, Amina recalls.
En­tre­pre­neur­ship has required a lot of work with your own thoughts and doubts
Since a young age, Amina has been involved in voluntary work and worked in different areas of social services, including child welfare, the third sector, as a kindergarten teacher, in social work with adults, and reception centres.
Each job has helped me grow professionally and has been part of the path I am on today.
After completing her Master's degree, Amina started a company named Qj-Diasporassa, which promotes diversity and differences and highlights the benefits of diversity to organisations.
Amina ended up as an entrepreneur as the sum of many parts. The greatest impact has been the increase in her self-confidence and professionalism. She has received a great deal of messages and encouragement from colleagues, friends and various institutions as regards entrepreneurship. However, before becoming an entrepreneur, she had to do a lot of internal work.
I have had to work on my own thoughts internally, about the fact that if I don't believe in these services, these issues and this passion for work, nobody else will either.
Amina gained tools and ideas for her entrepreneurship from a course on entrepreneurship in her Master's degree studies, in which a concrete business plan had to be drawn up and the plan also had to be taken forward. In the early days of her entrepreneurship, Amina has also received a lot of help from mentors and coaching courses.
Building trust with customers is important
The idea behind Qj-Diasporassa services is that our society should be more diverse. It is important that people of different backgrounds and languages are actively involved in society.
Through my work, I have noticed some challenges in the structures of society, which is why I provide training for professionals who encounter customers speaking foreign languages. I help and support them to face people from different backgrounds.
In addition to training companies, Amina coaches women of different languages and backgrounds in challenges that prevent them from participating in society. For example, she arranges a variety of training courses for Finnish language students or groups aiming to access working life.
I am able to use my own background in my coaching, because I myself originally came to Finland from Somalia and I understand their situations in a completely different way. This is why we build such strong trust with my customers, and it is in a way the foundation for all this work, Amina says.
In addition to these services, Amina also guides women to exercise through the Mamanet ball sport hobby. Most recently, Amina has begun cooperating with businesses in order to promote more equal recruitment. Amina is managing the recruitment process of a company's pilot programme and looking into the background and stumbling blocks that lead to the mismatch between foreign-language jobseekers and working life.
Amina seeks to directly influence the structures of society and to stimulate and challenge discussion and narratives on the one-sided image we often have, for example, of foreign-language speakers.
What people see and consider normal is very narrow. If you don't fit into that box, it is really challenging and it has a direct impact on things like education and working life, Amina says.
Amina recommends that current and future students challenge themselves and their own thinking. As a student, it is important to build networks because entrepreneurship is certainly not done alone – you need other people.
The most important thing in your own work is to find the reason why you want to do the work.
For me, my work is about paving a path that will be easier for my child than it has been for me in this society.
Suurin osa Showcasen blogeista on toteutettu osana Laurean opintojaksoja. Koko koulutustarjontaamme voi tutustua nettisivuillamme. Tarjoamme kymmenien tutkintoon johtavien koulutuksien lisäksi myös paljon täydennys- ja erikoistumiskoulutuksia sekä yksittäisiä opintojaksoja avoimen AMK:n kautta!