Hello all! Weeks are flying by and the summer is starting to knock on the door. Thats meens that spring courses are coming to end. Our project with SabriScan has progressed very well.
Extensive background work has now been done and it is time to get results. We will start contacting new potential partners first by e-mail and then by phone. Because partner companies are international, there are small elements of tension regarding the language wall. But the faith in our team is strong, every member has done quality work right from the start. Hopefully the work we do will produce results for our partner, new customer relationships would be the best possible reward for our team!
There are about 100 companies we are going to contact. The countries where these companies are located are Slovakia, Czech Republic, Poland and Hungary. There will be about 20-30 companies from each country. Companies have been ranked by Potential on the basis of certain estimates. The ranking has been done according to SabriScan's wishes to achieve the best cooperation.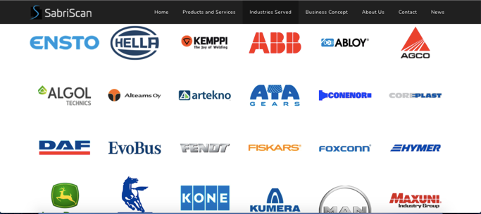 There are some of SabriScans partners and clients, our goal is to get more companies on that list. 🙂
I am sure that the whole team has learned a lot of new and received information during this project. And yet it is the most interesting and certainly most instructive task in the form of contact ahead before finalizing a project and sharing the results with SabriScan. Unfortunately, we have still not been able to meet face to face with the team or partner due to the pandemic. Our work has been smooth despite the difficult situation.
Happy summertime everyone!
Suurin osa Showcasen blogeista on toteutettu osana Laurean opintojaksoja. Koko koulutustarjontaamme voi tutustua nettisivuillamme. Tarjoamme kymmenien tutkintoon johtavien koulutuksien lisäksi myös paljon täydennys- ja erikoistumiskoulutuksia sekä yksittäisiä opintojaksoja avoimen AMK:n kautta!