Writers: Jesus Esparza, Paule Jean
This student project is composed of four Finnish students and four exchange students from Mexico, France, Romania and Japan. The client was Laurea Marketing and the purpose of this project was to assist Laurea's marketing department in promoting the university, improving its marketing and developing its visibility to attract local students to join Laurea University of Applied Sciences. The project was a part of Service Design and Sustainability study, starting in January 2023 and ending in April 2023.
Using the LbD method was crucial to work on and develop this project. LbD is a competence based pedagogical model created in Laurea. The core is in authentic workplace projects, research and partnership. LbD can be put into practice with various forms of teaching.
This method helped the team to work more efficiently in team projects by dividing the work into different stages and assigning specific roles to each team member. By following this method, the team was able to complete the project more effectively.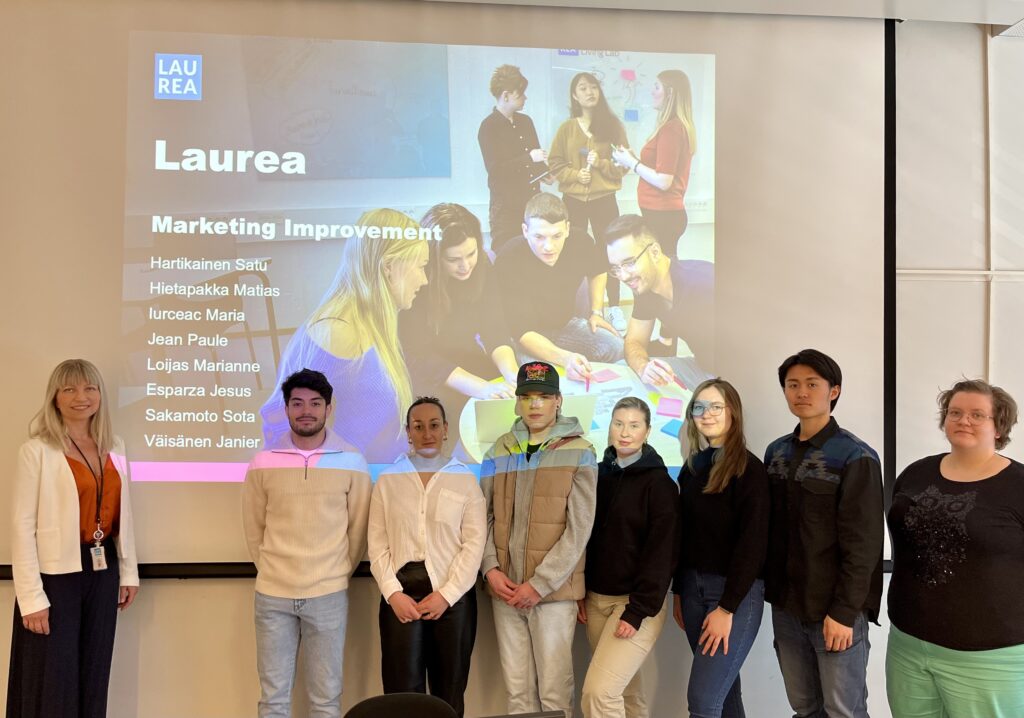 Tho run this project, the team used different Service Design methods such as Preparatory Research, Brainwriting, Brainstorming, Surveys, User personas and other tools that allowed the team to come up with new content ideas and possible marketing strategies to target a specific market segment (in this case local students) by transmitting them the great opportunity to come and study in Laurea for potential applicants. This knowledge was valuable not only for the project but also for our future work in the field of marketing.
How was it like to work in such a multicultural team?
The team members were challenged to come out of their comfort zones and communicate in a foreign language, which helped in improving language skills and becoming more confident as individuals.
The project also provided the team insights into different cultures' perspectives on marketing. The team learned that people from different cultures may have different ideas or interpretations about what is important in marketing and how it should be done. By understanding these differences, the team was able to develop more effective marketing strategies that were tailored to different cultural contexts but with the same goal, to develop marketing strategies and content ideas to attract local students.
Lastly, one of the most significant benefits of the project was that it helped the team members to develop their soft skills. By working in an international team that involved different work cultures, it was possible to adapt to different ways of working and develop communication skills. The team members learned how to communicate effectively with people from different backgrounds and how to develop our ideas collaboratively. This was a valuable experience that will help every team member in future works, especially in multicultural teams.
Suurin osa Showcasen blogeista on toteutettu osana Laurean opintojaksoja. Koko koulutustarjontaamme voi tutustua nettisivuillamme. Tarjoamme kymmenien tutkintoon johtavien koulutuksien lisäksi myös paljon täydennys- ja erikoistumiskoulutuksia sekä yksittäisiä opintojaksoja avoimen AMK:n kautta!